10/31/13. NSA Script Advised Officials To Inject 9/11 As Talking Point To Justify Mass Surveillance. Steve Watson, Infowars.com
"A newly released internal NSA document reveals that officials at the spy agency were advised to deliberately invoke the specter of the 9/11 attacks when talking to members of Congress, the media, or when making public addresses, as a way of justifying mass surveillance of Americans.
The 29 page document, obtained by writer Jason Leopold via the Freedom of Information Act, appears to be part of a mad rush to organize a PR campaign following the Edward Snowden leaks.
In sections entitled "Sound Bites That Resonate", and "Media Leaks One Card", suggested talking points include the following phrases:
"I much prefer to be here today explaining these programs, than explaining another 9/11 event that we were not able to prevent."

"NSA and its partners must make sure we connect the dots so that the nation is never attacked again like it was on 9/11."

"These programs have helped prevent over 50 terrorist events since 9/11, while also carefully protecting civil liberties and privacy of our citizens."

"First responsibility is to defend the nation."

"Post-9/11 we made several changes and added a number of capabilities to enable us to connect the dots."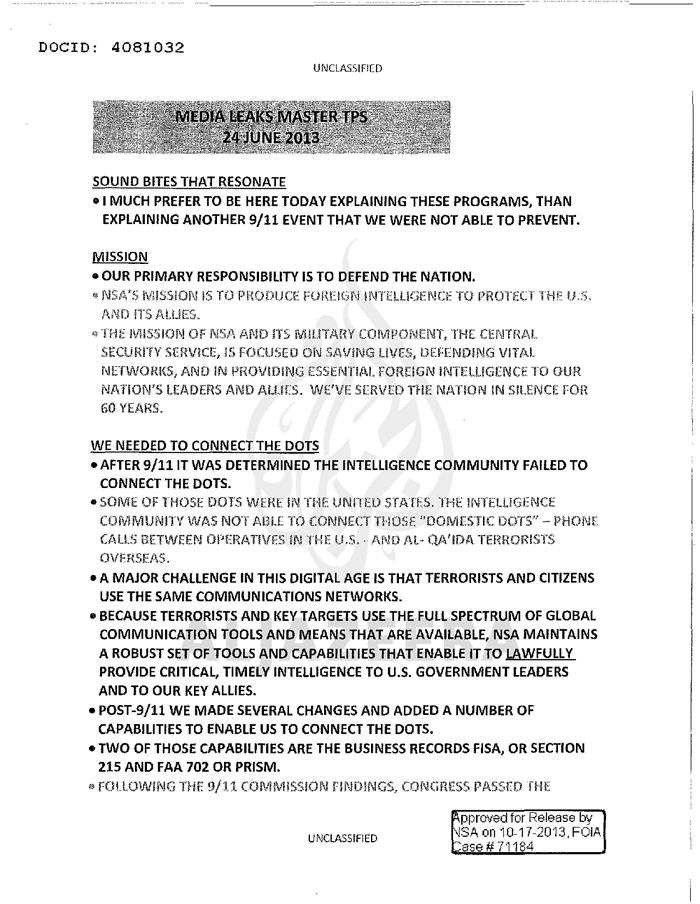 Leopold notes that NSA head Gen. Keith Alexander used an amalgamation of the statements on June 18 , when testifying before Congress regarding the mass surveillance programs.
"It is much more important for this country that we defend this nation and take the beatings than it is to give up a program that would result in this nation being attacked." Alexander told legislators.
The Washington Post notes that this practice has continued. During a House Intelligence Committee hearing on Tuesday regarding the surveillance program, "September 11″ or "9/11″ were mentioned 14 times.
Alexander also stated "Prior to 9/11, we had no way of connecting those dots," referring to such surveillance of "suspects", again using one of the talking points.
Rep. Charles "Dutch" Ruppersberger, a Democrat on the intelligence committee also appeared to be reading from the NSA script, stating "these dots should have and likely could have been connected to prevent 9/11, and are necessary to prevent the next attack."
Other intelligence officials, such as outgoing FBI Director Robert Mueller, have also repeated the same talking points, indicating that the NSA script was used beyond the agency and throughout the spying community.
The NSA document also advises officials to where ever possible use the word "lawful" when discussing NSA surveillance programs, and to add the phrase "our allies have benefited … just as we have."
The talking point is deliciously ironic given the latest revelations about the NSA spying on foreign dignitaries and heads of state.
"We believe that over 100 nations are capable of collecting signals intelligence or operating a lawful intercept capability that enable them to monitor communications," the document notes.
The document also notes that when replying to questions regarding privacy and civil liberties violations, officials should say that there have been no "willful violations" and that the NSA is bound to "upholding the privacy and civil liberties of the American people."
"NSA employees are acutely aware of the importance of protecting the 4th Amendment. We are, ourselves, private citizens." the script also states.
Of course, while illegally monitoring the communications records of untold numbers of Americans, the reality is that NSA spying has not resulted in a SINGLE foiled terrorist plot.
The NSA has refused to comment on the document."